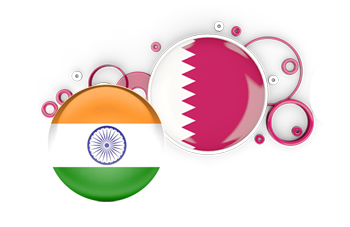 India and Qatar enjoy historical bonds of friendship based on strong foundation of very close people to people contacts. The multifaceted bilateral cooperation includes very vibrant ties in fields of trade, energy, investment, connectivity, culture, education, health, defence and security to name a few.
Source : Embassy website
Opportunities in Qatar
Qatar has adopted an economic diversification policy, inviting the private sector, developing national industries and exports, and attracting investment in non-energy sectors.
Total volume of investments in the industrial sector in 2020 amounted to approximately QR 263bn.
The total number of factories in Qatar registering a 6% increase in 2020
Recent legislation including those related to Public-Private Partnership (PPP), provides investors with the opportunity to finance, develop, and operate projects in a variety of priority sectors, including food security, sports, tourism, health, education, and logistics. An Investment Promotion Agency was also established in July 2019.

With FIFA World Cup around the corner and infrastructure reaching completion, the focus is on the service sector opportunities for the 1.5 million fans expected to visit the country during the event. Some indication of other opportunities :
Qatar's expansion of LNG output from the North Field to 110 million tonnes by 2024, generating substantial demand for infrastructure, engineering goods and services during the construction phase and beyond.
Qatar will host 2030 Asian Games, reinforcing the country's sports hub reputation.
The Indian diasporo population is about 7 lakhs (nearly 25% of the total population in Qatar) and along with other South Asian countries,creates a high demand for Indian food products.
About 90% of the pharma products are imported to Qatar with imports from India are only around 1% of this , indicating the scope of growth, considering India's credibility as the "pharmacy of the world".
The liberalisation of visa regulations, changes introduced to Company Law, the new Free Zone regulations and the proposed Permanent Residency scheme for longstanding foreign residents, are developments that offer opportunities as well.
Opportunities in India
With its rich talent based, entrepreneurial spirit and one of the largest and youngest consumer bases India offers a plethora of investment opportunities. Some recent developments reflect the story.
Qatar Investment Authority (QIA) invested about US$450 million for a 25.1% stake in a unit of Adani Transmission Ltd.
Byju's, an Indian learning app, received an investment of US$150 million by Qatar Investment Authority.
Verse Innovation, the parent company of vernacular news aggregator Dailyhunt and maker of short video entertainment app Josh, has received US$100 million from a consortium led by Qatar Investment Authority.
QIA along with other investors (GIC of Singapore, Falcon Edge, Amansa Capital, Think Investments, Carmignac and Goldman Sachs) invested US$ 800 million in Swiggy's. Qatar Investment Authority (QIA) plans to open an office in India is a reflection of the confidence that Qatar has in the Indian investment opportunity.